FREE YOUR SKIN FROM AIR POLLUTION EFFECTS WITH OÉ
FREE YOUR SKIN FROM AIR POLLUTION EFFECTS WITH OÉ
Make-up, impurities, sebum, perspiration, pollution particles…All of this is accumulating during the day. It's for that make-up removal is an indispensable beauty step to keep a « beautiful skin ». But, this step is forgotten by many women and considered as an unpleasant moment !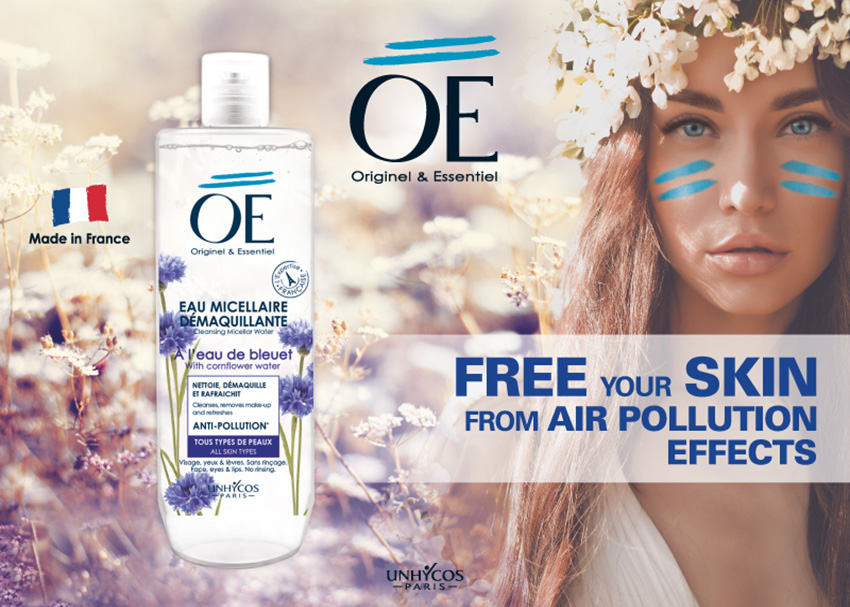 Make-up removal ? How to make it easier and a moment of pleasure ? OÉ innovates and creates Cleansing Micellar Water with cornflower which revolutionize your make-up removal ritual.
The ideal solution for a quick, effective and gentle cleansing of the face, eyes and lips in one-step and whithout rinsing. Our Micellar Water cleanses, removes make-up and eliminates pollution particles while refreshing the skin.
Its secret ? Micelles, gentle cleansing agents that efficiently capture impurities, make-up, excess sebum and pollution particles like magnets. For a perfectly clean skin, free of pollution.
Its key active ingredient ? The cornflower water, recommended to respect the fragile area of eye contour thanks to decongestant and soothing action.
Its more ? Our Cleansing Micellar Water is suitable for all skin types.
So, don't hesitate and come quickly to discover it in store. You will like its big size and its transparent and nature packaging.