NEW, AQUATIC FRESHNESS RANGE
NEW, AQUATIC FRESHNESS RANGE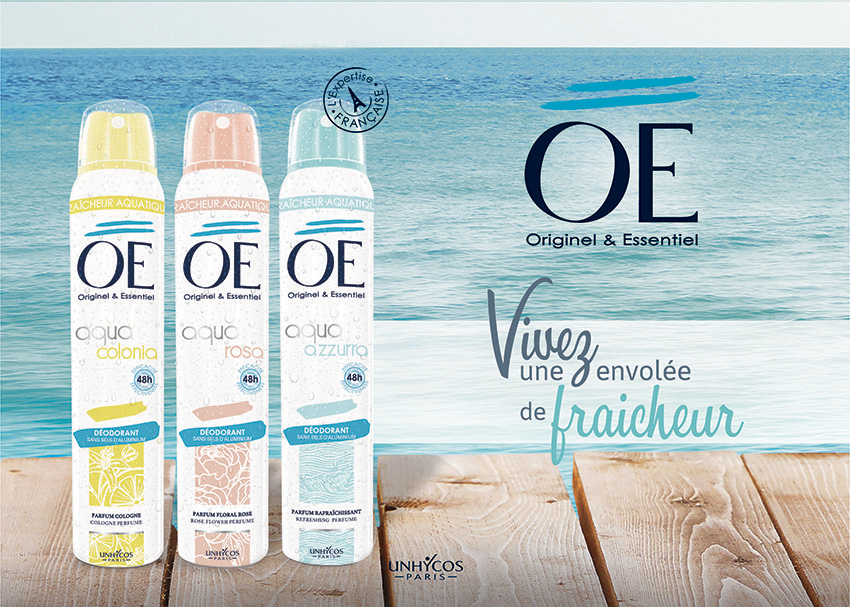 OÉ, a key player in the perfumed deodorants, likes to please a maximum of consumers. For that, the brand offers different ranges of perfumed deodorants to satisfy all tastes:
The iconic range of « Perfumed freshness » offers long lasting deodorants developped as real perfumes.
The range of « Infinite perfume » offers intense, sophisticated and very long lasting deodorants directly inspired by fine fragrance.
And for consumers who like fresh and light fragrances ?
OÉ fulfills their desire and launched its new range of « Aquatic freshness ».
3 new addictive, subtle and refreshing fragrances with pastel colours.
Dive into each olfactory universes:
AQUA AZZURRA
Inspired by crystalline water of lagoon, Aqua Azzurra is an exotic and refreshing perfume with fruity and floral scents
AQUA ROSA
Inspired by the scent of a rose garden refreshing by mornind dew.
Aqua Rosa is a fresh and voluptuous perfume with delicate notes of rose and peony
AQUA COLONIA
A fragrance that immerses you in the irresistible freshness of an Italian garden bordering the Mediterranean.
Aqua Colonia is an acidulous perfume with citrus scents and notes of orange blossom and jasmine.
With OÉ, experience a feeling of freshness.